One reason I'm feeling overwhelmed!
Thursday, March 13, 2008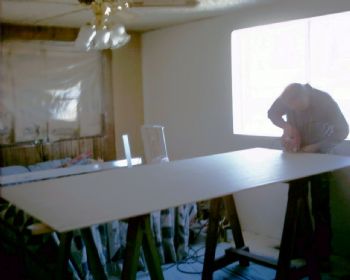 It isn't SP that is overwhelming me - it is retirement! I had heard romors that people had nothing to do when they retired and were soon bored! I'm looking forward to the boredom phase! LOL!
I just snapped this photo of Mr. "Honey Hand me. . ." cutting sheet rock in our living room and thought I'd share! Don't think we will be featured in House Beautiful in the near future! LOL! The wall at the left that still shows paneling will be taken out in order to expand the living room. That is still a few weeks away as we have to move the heating vent and that calls for warmer weather.