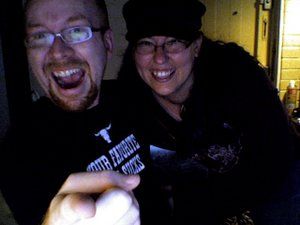 Today I walked. For. Ever. The plan actually didn't include an extra four miles of walking... but rain coupled with a lack of empty taxi cabs made for a whole lotta walkin' goin' on!
My daughter and I went to Tokyo today and spent some time with friends we'd met online in Harajuku and near Shibuya. It was awesome! This was my first time traveling up to Tokyo without an assistant navigator, and go figure I'd forgotten my railway map at home! Good thing the Japanese rail systems are so easy to figure out!!!! It was really fun and kind of empowering to be a "big girl" and head to Tokyo and back on my own. I finally figured out the subway systems too.
How do you big city dwellers make it look so darned easy?!
Anyway, we had a blast, dancing to music, singing, joking around and seeing what there is to see. We stopped at, of all places, a Tex-Mex steakhouse near my friend's house. I never, ever, EVER pictured myself in a steakhouse in Tokyo. Seriously.
In any event, I had a great dinner of grilled swordfish and sauteed veggies with some water (no soda for me, thanks. Oh, I'm sure. No. Seriously. Water.) and Small Thing had chicken quesadillas while my friend, jokingly referred to as an Internet Axe Murderer, had the most amazing looking burger with some fries.
I hafta say, he agreed that the fish was amazingly good. So while the burger looked, and smelled, faaabulous, I'm glad I went with the grilled swordfish!
We managed to hit the trains home around 7:30pm, which is prime traffic time for Tokyo workers heading home. Whoops! We were packed on the train like sardines and Small Thing got a smidge claustrophobic. We've always avoided rush hours in the past, but today after much sight seeing and walking in the rain, I was really ready to head back home!
It was a great day with easy food choices and I am just. plain. beat.
I hope you all had a great day as well!
(the pic is me and my friend who goes by Harmaceutical online at his place - The Harmacy. LOL A fabulous apartment considering his location in downtown Tokyo!)