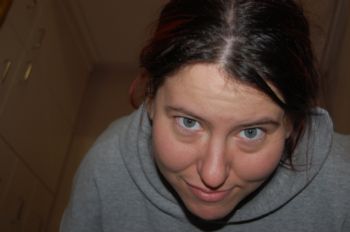 I have a hobby. It's not tracking calories, blogging, or getting my body used to running again (ok, lumbering is a better word than running at this point, but I'm getting there.)
My hobby is something I do to get away from the mental mindset that I sometimes find myself stuck in. It's something I do so that I can have an outlet that's not dependent on my physical condition or my personal perception of my condition.
What's my hobby?
Photography. I get behind the lens and I try to capture little snippets of my life... I have folders filled with images that I meant to use to punctuate my point in a story or tell a story with splashes of color and imagery that I couldn't possibly portray in words.
Sometimes my husband gets a little sick of being shot by the shutterbug in the house and he retaliates. The results sometimes look like the above pic - me, somewhere between exasperated and amused, giving in to his clicky-clicks and just wanting my camera back!
The past couple of days.... I've been somewhere between exasperated and amused, just wanting to keep on track!!
I find myself somehow scrambling for time - between SP, blogging on other sites, the chores around the house, my kiddo, and my husband I sort of feel oddly crammed into a schedule. I feel like I"m short changing almost every area of my life trying to touch on each aspect.
Is it fair to give things a dusting of your time rather than full involvement and full attention?
Well... sometimes yeah. Yeah it is. Sometimes we just can't devote 100% of ourselves to a goal. Sometimes - and only sometimes - we have to be ok with doing the best we could *at that time.*
Its taken me a long, long time to figure out my Best isn't a constant. Some days, my best is going to be BETTER than other days. Some days... not so much. I cringe and move on and hope to improve the next day. When I do, things are great! When I don't, I battle a downward spiral.
Right now, I'm not so sure where I stand. Am I downward spiraling? Am I going to move onward and upward?
Honestly, I don't know. I have no idea what's around the next corner, what's in store five minutes from now, or even an hour from now. Let's not even talk about what might be in store for tomorrow!
I find it to be a frustrating position more often than not. So I decided to take what I consider to be a proactive step.
Let's play The Good, The Bad, and The Analysis:
Good: I haven't missed a cardio workout yet this week.
Bad: I have been skimping a bit on strength training.
Analysis: I'm happier about MAKING the time for cardio - especially since I'm using my cardio time to get ready for an upcoming 5k.
Bad: I've been eating like a pig! A PIG! I recognized it yesterday - my SP tracking proves it.
Good (ish): I haven't been gorging on bad for you foods... but I'm still overeating.
Analysis: I'm not sure if it's due to certain situational triggers (ie - I munch when I read) or emotional (ie - I'm slightly stressy this week) At least I can keep myself in check (and honest!) on SP
Bad: I feel like I don't have myself and my time well organized.
Good: I think this is actually just a phase - I'm doing well with tracking my food/water/workouts, I still blog on a regular basis, I take tons of pictures and learn from most of my snaps, I'm making new and fabulously flavorful foods for the family (whoa - alliteration!) and I finished a really good book this week.
Analysis: Things are going well - I might just have a skewed vision of how things are actually progressing.
Big Scary Thought:
I'm also at 210. I know this is HUGE for some people, teensy tiny for others. For me, 210 is sorta like Onederland. I can get to 210 fairly easily, but I've hit a plateau at 210 four times since last summer. The scale hovers there or goes higher... I haven't seen it lower since Small Thing was a wee ickle thing.
I'm trying so hard to just focus on keeping up a healthy lifestyle - but I sabotaged myself a bit this week and I think a little bit of it is the weird stress of 210.
It's just a number. It's just a number. It's just a number.
Keep paying attention to what I eat, when and why.
Keep drinking water (not soda!)
Keep working towards a 5K goal.
5K - not a weight loss goal. A FITNESS goal.
*deep breath*
If I keep talking, maybe I'll start listening?
Welcome to my weekly Minor Mental Battle.