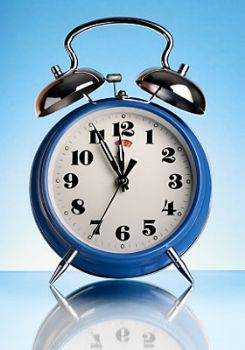 I'm sort of a morning person. If by "morning person" you mean "stays up until the wee hours of the morning" person....
I love my late nights, especially since that's when most of my friends on the other side of the globe start waking up and blogging! It's like a slew of bedtime stories right before I drift off to dreamland!
This was working really well until I started running again. On my run days, Jase would get home around 4:30 (give or take 20 minutes) and we'd chit chat for a smidge, then I'd be out the door for a 45 minute walk/run session. I'd get back, stretch, shower and start fixing dinner by 6, with it on the table closer to 7 than I'd like to admit. After eating and dishes, we're pushing 8 pm (we dawdle around the table!) and it's time to get Small Thing in the bath, reading lesson/story time, and then she's up past her bedtime and Jase and I feel like we got sorta cheated out of an evening.
Amazing what difference an hour can make in the evening.... so I figured I'd try my run in the morning. Jase's schedule varies a bit during the week, but the earliest he has to head out is 6:30am, so I figured that if I was up by 5:30, I could have an hour before I have to be back for the kiddo.
Last night ... I went to bed at about 11pm. I triiied to fall asleep. I'm not sure how long I twitched 'n' tossed 'n' turned, but eventually I found myself dreaming about a bicycle, a running race, and McDonald's. Don't ask how it all blends together, but it made sense in my subconscious!
At 5:30am my cell phone started merrily singing in Japanese. I have no idea what it says, I'm sure it's a polite version of "Hey it's time to get up now!" in a chipper female voice.
I thought about flinging it out the window... instead I compromised and hit snooze. Seven minutes later, I was groggily pulling on my sweats (I'd left my clothes out the night before, knowing I'd need all the motivation I could get to make it out the door easily!)
By 6:30, I was back at the house, checking email, making coffee, starting laundry... it was kinda nice to be up and facing the day. The kiddo was up and we shared breakfast at about 7:30, complete with some OJ.
By 9am, I was wondering when lunch was gonna show up. I had some sliced cucumbers and some water. 9:45, I had a diet coke. 10:30 I grab a couple bits of jerky and I'm thinking if lunch time doesn't show up soon, I'm shooting someone. 11am I have a turkey sandwich and finish my cucumber from earlier. Noon? Dying from starvation.
What the heck? So I had some cheese and part of an apple.... 1:30 in the afternoon I cave in and make some cake... then have a piece. (usually just making it works and I send it with my sweetie to work the next day!) 2:45 I'm still keeling over, I've had three glasses of water since I had cake... and I munch on some baked lays.
By dinner, I thought my stomach was going to eat my backbone and we had broiled shrimp and thick sliced tomatoes.
I have NO idea why I was so hungry alllll day long, but I'm finally feeling satisfied.
Good thing... I've been nom nom noming all day long! I know I didn't always make the best choices today, but I've rarely been THAT hungry THAT often in one day! *laughs* Usually I'm willingly snacking on veggie sticks or a chunk of cheese between meals and happy as can be. Today?
Hungry was the name of the game!
Do you think it was due to the schedule flip flop or what?
Anywhoo - I'll be up earlier than usual again tomorrow. I'm not gonna have a weekend totally derail my attempts at a morning workout!