McDonald's...I'm Hatin' It!!!
Saturday, June 28, 2008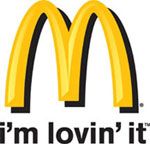 Well, my advice to anyone reading this....Never, I repeat never say that you will save all your calories for one "bad" meal. MY STORY: Today, I woke up and said to myself " I think I want to have a Tony's Supreme Pizza" I haven't had a Tony's Pizza since I started my new life. Anywho, I had breakfast and went to the gym. I picked up my pizza at walmart and came home. At about 3 pm I had my pizza. Besides my oatmeal and fruit, pizza was my food for the whole day. So, of course I was starving by about 6. I did good though. I didn't eat a thing and I was still in my calorie range,( I was over in fat by 5) so I could get some fruit later if I wanted it. Well, I had my fruit but that didn't do it. About 11 pm I was headed to McDonalds. I had two double cheeseburgers (no buns) and a small fry. WOW!!! My little piggie came out in a big way. I know that pizza being my "only" meal was the culprit. Usually I eat throughout the day, so I'm never hungry. So my advice. Eating that "bad" meal as your only meal early in the day is setting your evening up for failure. I know, it just happened.