Things that help me keep my calories down...
Friday, November 09, 2007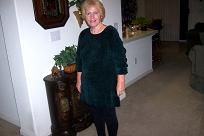 Along my path of weight loss I have found some things that help me a lot.
On my down days especially they help me keep my calories low. They are Walden's Farms products but I by them from Netrition.com because they are about 50 cents cheaper for each thing you buy and also their shipping is a lot less. They have zero carbs and zero calorie items such as salad dressings, toppings, such as caramel, chocolate etc, blueberry and regular syrups, fruit jams or gels, BBQ sauces, ketchup, shrimp coctail sauces, bruschetta, and the new one, peanut butter. I take the toppings and mix in cottage cheese, sour cream, Ricotta and toss in a little fiber one cereal to make it have crunchies and it's a dessert for me. Fiber One is another thing that helps me, Flax seeds add fiber. MBT chicken broth for 5 calories takes the edge off your hunger and of course water. Lunch meat (20 calories) rolled up with a piece of fat free Mozeralla cheese with a salad makes a meal. La Tortilla 50 calorie tortillas, individual pouches of tuna,salmon etc with fresh cooked brocolli makes a nice meal too. EAS Advant Edge carb control for only 110 calories and 17 grams protein and of course, breast of chicken. All these things have helped me in my journey of losing weight. I hope this might help someone to reach their goal. I only have 5.5 lbs to goal...