Back on track after Thanksgiving, Thank God
Tuesday, November 27, 2007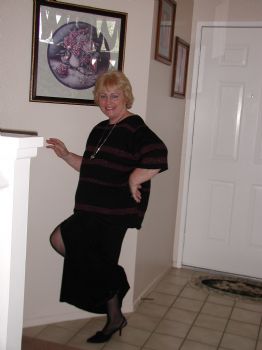 Well, I made it through Thanksgiving and I'm back on track. I have lost 4.5 lbs of fat that I had gained and I am on my way to a new low...I am so glad that I learned how to control food and not let it control me. It's funny how when you eat like that, it just doesn't taste as good as it used to. I am finally eating to live instead of living to eat. It's so much better this way...
On to Christmas! I think that I will only take the weekend off from JUDDD this time, instead of a whole week of grazing. It's a great time of the year because of Jesus's birth and getting together with my family but I could do without the commercial side of it.
I am so much healthier this year than last. The above picture was taken last April 28th at my grand daughter's wedding. I'm thinner now than I was at that time. I'll never get back down to 99 lbs again, but I won't get up to 202 lbs again either, so I'm happy with where I am but I want to lose 7 more lbs. Just because! It's a new day and I'm going to grab it and go!
With some luck I hope to be at goal by the first of 2008. I'll have to be very careful in order to do that.