Down to 148.5 AGAIN!
Sunday, December 09, 2007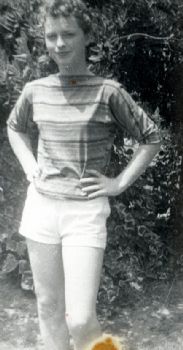 OK, I was 16 when this picture was taken, oh, the joys of youth!
I have made yet another discovery about me losing weight. I switched to low carb several months ago and really lost fast, but as with all diets, the honeymoon was over unless I kept switching things around. In my searching of the internet I ran acrossed some people who eat 75% good fats, 5% carbs, and 20% protein. I thought, how can I get more good fat in my diet? Fat satisfies you, helps you with constipation, builds up your good cholestral and to be truthful, many months ago I tried The Shangri-lia diet and it was good, just not complete so I quit doing the oil. My good cholestral has always been low. I have done low fat or fat free for years and I have extremely dry skin. Oil is good for softening your skin, lessening the wrinkles, making your hair shine, and appetite controll. Anyway, I had decided to try the percentages that were suggested and cut out most of the carbs. What I found was that while cutting the carbs to 5%, I could eat more calories and still lose weight. Last wek I had had a day where I ate 1256 calories and gained 3 lbs. (Before I discovered this WOE) I have gained on as low as 750 calories but here I ate almost 1000 calories and lost a lb. I am so thankful for the internet and all the diet sites and forums on it. I have learned soooo much about what works for me and my particular God given body. No wonder I always was starving and had to cut to 500-700 calories to lose weight only to gain it all back and more. 202 lbs was the highest I'd ever weighed and I was disgusted with myself. Also I would get to places where I'd just move the lbs up and down, which was where I was for 3 weeks. I still have .5 lb to get back down to my lowest weight, but I think this is the plan for me. 1 tablespoon a day, early in the morning when getting up, wait an hour or two to eat. Feel satisfied and still lose weight. I'm on my way to another experiment with my weight loss. I'll keep you posted...