Another crazy idea!
Tuesday, December 11, 2007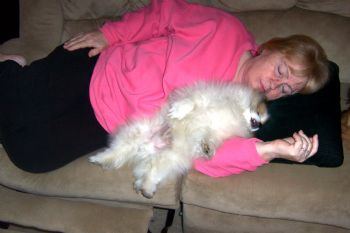 OK, some of you have noticed that I am willing and ready to try anything to keep me losing weight. I know most of you wouldn't want to try this but my latest experiment is doing the 75% fat, 5% carbs and 20% protein diet. It's by Barry Groves, Ann Louise Gittleman and others. You all know I've been doing JUDDD and added low carb later. Well, for the last 5 days I've been eating more and still lost 2 lbs, (last week I ate 1256 calories and gained 3 lbs) I did not do any down days in the past 5 days but still lost anyways. In order to get my fat up there I added a tablespoon of Virgin Olive Oil, yes, straight from the bottle. It's not my favorite tonic, but it keeps you feeling satisfied. Add a little protein to that and I'm good to go for several hours. Not only does it keep you satisfied but it's good for your skin, hair, constipation,keeps you satisfied and cuts the cravings down and a bunch of other things. Well, you might say I took some from Dr. Johnson, some from Dr. Atkins and now some from Barry Groves. God made each of us differently and so a lot of what is taught us doesn't work for everyone of us. It should not be looked at as gospel truth, but we each have to find THAT combination that works for us. While basically for some people it works, it doesn't always work for everyone. I used to feel really weird (mad) when my friend and I would go on a diet and I'd be die hard stick to it and she'd be eating donuts and she would lose more than I would. I tried the conventional eat less calories but where others could lose at 1200 calories I would have to go to 500-700 calories to lose like they were losing and as soon as I lost it and went back to "normal" eating I'd gain it all back. Two things I've learned is I will never not have to count calories and if something jolts you from your diet, just get right back on. You haven't lost the game until you give up. No matter what diet you are on you will plateau for awhile but when that happens to me I don't give up the diet but I go to a different diet or try some other thing while still using JUDDD as my diet base. I drink a glass of water with lemon and cayenne pepper 2-3 times a day, I do an extra low down (200 calorie) day,and if all else fails I scour the internet for new ideas. I had been hovering around 150 for 3 weeks (my lowest was 148) but I couldn't get to it again after Thanksgiving. (I took a week off of my diet) That's another thing that helps me is to have a week or so of no restrictions and then I can jump right back on and lose what ever I've gained in 2-3 days of hard down days. But I couldn't lose the 2 lbs that I'd gained before Thanksgiving. I take vacations, holidays etc, and go off my diet but jump back on when it's over. The big thing about JUDDD is that it gave me control over food. I can now decide what I'm going to eat instead of caving to cravings.
I posted this blog on Weigh Ins where I have some more friends that I wanted to tell how I was doing. This picture is of me and Zacky after only 1 week on my diet...