What's up with me???
Monday, January 07, 2008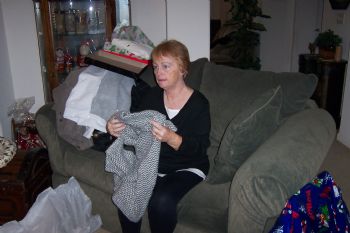 How hard is this? After 195 calories, only down .5 lb?? I was hoping to at least get down 2 lbs. Eating such a low amount wasn't the hard thing, the hard thing is only losing .5 lb. I'm telling you, my body is fighting to keep me at this weight. How can other people lose when they eat more than twice the amount I do? This is the perfect example of why I get radical. Now, I'm not advising or recommending that anyone else do what I do, but I do what I do because I don't lose otherwise. Yes, I can lose after holidays and vacations, but when it comes to progressing downward, I'm having a real tough time. My low was 146.5 but I only saw it fleetingly. Help! What am I going to do to shake this body into losing weight? You say, exercise, I tried that several years ago. For months I exercised everyday doing 4.5 mph for 45 minutes (on the treadmill) a day. Did I lose? No, I probably got stronger (that was my goal, to get healthy because my sister had just found out she had terminal cancer) but that was right before my 1st heart attack so I guess I didn't really even get stronger. Then a little over a year later, a second heart attack while on the treadmill. I guess my reasons for not exercising are pretty deep seated...I just don't know what to do next?? Maybe 3 down days in a row? One down, 2 to go? There's got to be a way to do this, but what is it???