Thanks to all for the kind and encouraging words!
Tuesday, January 08, 2008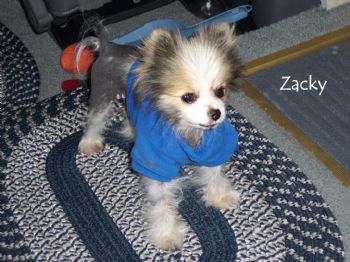 OK, I'm back to normal, (which really isn't normal), and I'm all calm and ready to start losing again. One of our team members, (Friends of Dr. Johnson), has lost a huge amount of weight this past year and we are so happy for her. She's gone from the 400's to the 200's and we are so proud of her. She has such determination and perserverance that it is inspiring. Actually, I think that there are two that have lost incredible amounts this year. I know, I'm still in the past, but it doesn't hurt to gloat a little over our accomplishments. We have grown in number so fast but we are still a tight little group with lots of enthusiam and I'm just glad to have taken a friend's advice to start a team. It's been a rewarding experience for me. I'm looking forward to 2008 with enthusiam and excitement. This year may be the best year of my life!
P.S.
This is my Pomeranian, Zacky, who lost almost all his hair for 2 years and then it all came back in...my baby boy is so cute!