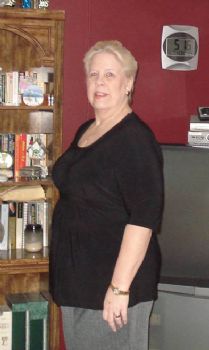 It is 11/21/07 and I have now lost a total of 91 lbs. since Jan. 4, 2007. I will come back and add to this list as I continue to shed the pounds.
1. Sit in a chair with arms.
2. Sit in a booth.
3. Tie my shoes without propping my leg up on something.
4. When driving, I can now pass a fast food restaurant without wincing.
5. Reach areas of my body without cutting off my circulation.
6. Buy a pair of shoes one size smaller than before.
7. Shop in a regular store for clothes.
8. Look in a mirror and smile.
9. Do crunches with 60 lbs. of weights.
10. Walk more than 5 minutes without having to sit down.
11. Look forward to going to the gym.
12. Start getting rid of clothes that are too BIG for me!
11/26/07
13. Walked for nearly an hour without sitting down.
14. Fit in my theatre seat Saturday night very comfortably.
15. Swimming one lap in the 70 ft. gym pool without stopping.
12/3/07
16. Touch my toes.
17. I wore a cocktail dress this weekend that I bought 20 yrs. ago. I kept it with the hopes I'd be able to wear it again and now I can!
12/5/07
18. Say good-bye to 97 lbs.
19. I'm not ashamed to tell my clothes size for Christmas gifts.
12/20/07
20. Adding even more weight on my machines at the gym.
21. I'm just about ready to give up using my cane to walk.
22. Wear high heels again that I've been unable to do since 1996.
12/25/07
23. At a Christmas gathering this weekend, I had to get up from the back of the dining room table, and NO ONE had to pull their chair in to let me pass behind them.
24. I made it through Thanksgiving and Christmas without eating anything I wasn't supposed too, and I didn't miss it.
25. Being able to open presents with clothes in them that people bought for me at a regular store.
1/09/08
26. Not being recognized by my own family. I went to a wedding shower for my cousin and another cousin did not know it was me!
27. Fill 4 39 gal. trash bags with clothes that no longer fit me.
28. Go from size 30W-32W clothes to 18W-20W.
29. Go from size 50C bra to a 44B bra.
30. Feel sexy again!
31. Say, "My husband can't keep his hands off me!"
32. Say goodbye to 111 lbs.
2/5/08
33. My blouses are no longer too big to stay on the hanger.
34. My pants no longer take up the WHOLE hanger!
35. I can cross my legs!!
36. Say goodbye to 121 lbs.
37. Wear a size XL jacket.
38. Be an inspiration to others.
2/16/08
39. Weigh less than my husband!!
40. Ordered a size 1X blouse from a catalog and had to send it back for a Large, because it was too big.
41. Gone from a size 10 ring to a size 8.
42. No longer need a seatbelt extension in my car.
3/2/08
43. Say good-bye to 130 lbs.!
44. Doing crunches with 65 lbs.
45. Doctor took me off my blood pressure medication.
46. People can give me a hug and get their arms all the way around me.
47. Walking for more than an hour now without having to sit down.
6/23/08 (Been a while since I've added anything. I've been caught up in my DD's wedding.)
48. Say good-bye to 162 lbs. now!
49. Can now cross my legs comfortably with no effort or props at all.
50. My own sister-in-law walked past me at the wedding and didn't recognize me! I hadn't seen her since Christmas.
51. I got as many gasps walking down the aisle as my daughter did.
52. I'm actually getting "hit on" by men! And they know I'm married! (check out a more up-to-date photo on my sparkpage.)
9/10/08
53. Got my blood drawn yesterday and they didn't have to take it out of the back of my hand!! They actually FOUND a vein in my arm!
54. Say good-bye to 178 lbs.!
55. Can now cross my legs UNDER a table!!
56. I'm buying so many new clothes (gone from 32W to a 16) and shoes (gone from a 11W to a 10) and my daughter asks, "When did my mom become so hip?" Now she's asking how soon I'll be out of them so she can have them. Unfortunately, she can still wear them after they become too big for me.
57. For the first time in my life I can finally say, "I can wear MY OWN mother's clothes!"
58. Since this is #58, I will share with you that I just had my 58th birthday a few weeks ago, and YES, I'm STILL getting "hit on"!
59. I now weigh under 200 lbs. (198.9 to be exact). Haven't weighed that since my 21st birthday.
60. Just celebrated my 30th wedding anniversary last week and my DH can't keep his hands off me!
11/23/08
61. Say good-bye to 184.8 lbs.!
62. 42.2 lbs. from goal!
63. I used to sweat like a pig under ANY weather condition inside or out. Now I can wear sweaters anytime (!), because I'm cold all the time. You can always put more clothes on to get warm, but you can only take so much off to get cool.
64. Not only is there no cane in my life anymore, but I'm walking a mile every other day.
65. I no longer look like the picture above, but the blog won't let me upload a new one. See my photo gallery for more recent (slimmer!) pictures.
66. My daughter now owns the above outfit!
67. It's been a whole year since I started this blog!