Happiness
Friday, January 18, 2008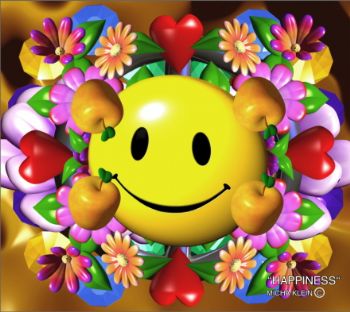 You will never be happy if you continue to search for what happiness consists of. You will never live if you are looking for the meaning of life.~~Albert Camus
You have to stop searching and just start living life. Find happiness in all the little things around you. Find happiness in everything that you do. Happiness can mean setting a goal and accomplishing it. Happiness can mean turning the radio on and dancing and cleaning the house at the same time. Happiness is anything you want it to be.
Sometimes we find it easier to immerse ourselves in negative emotions. Sadness and unhappiness reek havoc on our lives. We let it take a toll on our bodies and our minds. It eats away at us like a bacteria until all we have left to show is absolute darkness. Sometimes sadness becomes so deep we fall into a depressive state. Once those negative thoughts start feeding off of our brain we find it hard to change the negative way of thinking. Sometimes it's near impossible. I believe that the pollutants in the environment and what we put in our mouths affects our moods. But i also believe that we can all change our way of thinking. Put positive thoughts in our minds instead of bad ones.
My eating habits have changed drastically in a matter of two weeks and already I feel better than I have felt in a while. My skin looks so much healthier. I feel good. I just can't wait to lose the weight so that I can get that energy I've been lacking and missing. I can't wait. I see things in a brighter light. I've decided to change my negative thoughts into positive ones and I must admit it seems to be working. I love it. I hope to stay on the road to true happiness. I wish everyone finds the happiness road and ride that road until the road wears out.
I read these quotes and liked them very much so I wanted to share them:
Consider the following. We humans are social beings. We come into the world as the result of others' actions. We survive here in dependence on others. Whether we like it or not, there is hardly a moment of our lives when we do not benefit from others' activities. For this reason it is hardly surprising that most of our happiness arises in the context of our relationships with others.~~The Dalai Lama
The greatest part of our happiness depends on our dispositions, not our circumstances.~~Martha Washington
People take different roads seeking fulfilment and happiness. Just because they're not on your road doesn't mean they've gotten lost. ~~H. Jackson Brown, Jr.
We all have our own roads to happiness. Find yours.